How To Coordinate Beaded Jewelry With Other Accessories
Beaded jewelry is making a big comeback, especially now that the '90s and Y2K styles are back in fashion. L'Officiel shares that celebrities are already in on the trend, with Harry Styles wearing a beaded necklace in his "Golden" music video, while Dua Lipa has posted Instagram pictures featuring colorful beaded accessories. Even major fashion houses like Bottega Veneta and Balenciaga have joined the beaded accessories train by including beaded necklaces, earrings, and bracelets in their campaigns.

If you want to hop on the trend, you need to know how to style your beaded jewelry with other accessories. Here are the fashion tips that can help you create a well-coordinated look:

Follow the Rules of Layering
You can learn how to coordinate your beaded accessories in Y2K style by following the advice of TV show "Lizzie McGuire"'s stylist.

The show's costume designer, Kimberly Adams, states that you need to start by choosing a theme for your layered accessories. Lizzie McGuire was supposed to have a bright and vibrant style, so her layered accessories were made up of sparkling and colorful materials. In some scenes, she can even be spotted with stacked bracelets in primary colors, like blue and yellow, to complement her bright blue and green outfit. When chosen based on a certain theme or style, your layered beaded necklaces or bracelets will look much more put-together.
Aim for Similar Colors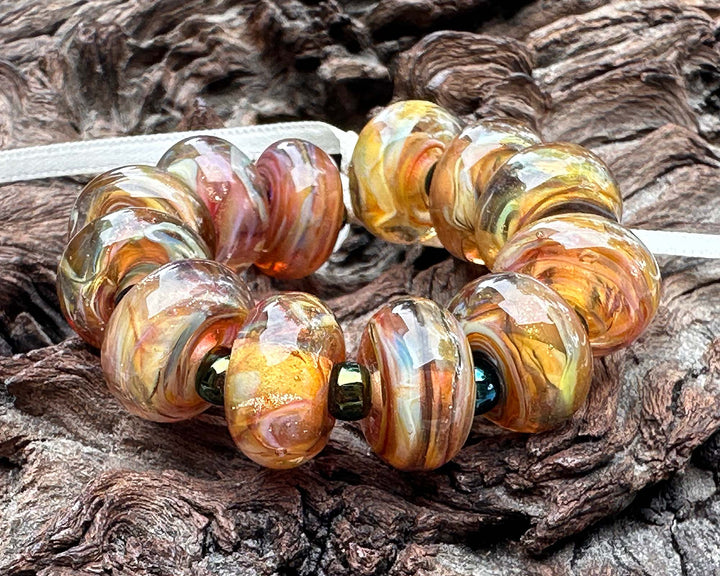 You can simplify the theme of your accessories by choosing a specific color for your look.

Many beaded accessories consist of gemstones with striking colors, making them easier to pair with one another. For instance, you can use our golden red jade gemstone bracelet with the cherry crystal gemstone beaded necklace and earrings, as they both have reddish hues. You can also match our Laguna blue lampwork bead necklace with our cobalt blue lampwork handmade bracelet. These accessories have similar colors and materials, so they're easy to coordinate with many outfits.
Match the Materials
Aside from using similar colors, you can also pair your beaded jewelry with accessories that have the same material.

Men can follow the advice of GQ staffers and mix metallic accessories like a Mabatto vintage men's watch with others of the same material, such as our metallic lampwork beaded bracelet. The watch has prominent notes of gold and silver, which can help balance the darkness of our deep blue metallic lampwork beaded bracelet. On the other hand, girls can pair their metallic beaded bracelets with women's sunglasses with metallic frames, such as the famous Ray-Ban Aviators. The metallic frames of the sunglasses come in neutral colors like silver, gold, and black, making them easy to match with our shiny bracelets.

Go for a Jewelry Set
If you want to coordinate your pieces of jewelry easily, you can take a page from Dua Lipa's book and invest in an accessory set.

In one of her Instagram posts, Dua Lipa accessorized her gorgeous blue bikini with a beaded necklace and bracelet set. Her necklace and bracelet consisted of matching pearls, beads, and tiny colorful charms, which are materials perfect for a beach look. Likewise, you can effortlessly coordinate your jewelry pieces by investing in bracelets, necklaces, anklets, or earrings that come in a set.

Beaded jewelry is incredibly versatile and can complement different types of outfits. Make sure that you can get on this Y2K style trend by trying out the above tips for accessorizing. 
 Article contributed by Rebekah Jane
Exclusively for SWCreations